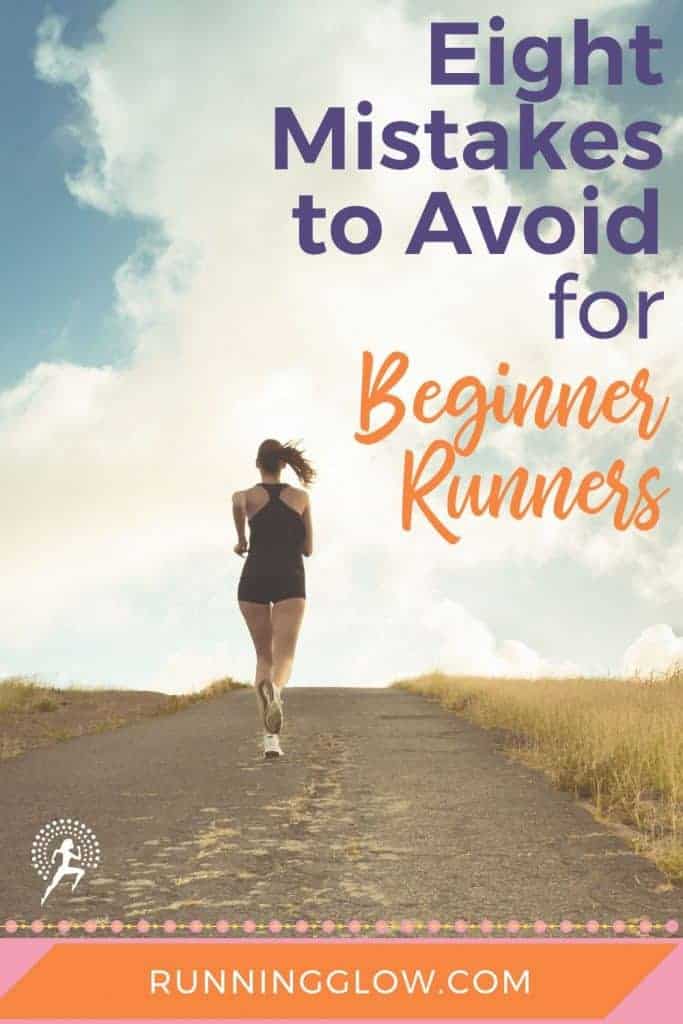 All of us are a beginner runner at some point; and it may be YOU right now as you're reading this post. If so, welcome to the sport! I can't imagine my life without running, but certainly didn't think that when I first set out many years ago as a beginner runner. Just like with anything new, we are often very excited, and anxious to make progress, and crush some goals (eventually). But, like anything new, there are potential pitfalls/mistakes to avoid in order to increase our odds of success.
Listed below are eight common mistakes to avoid as a beginner runner. This is not an exhaustive list, but certainly common ones to avoid as a new runner (or ANY runner for that matter!) so that you can enjoy your running most fully, and not be sidelined by injury or burn-out. And, read here for more tips on how to start running.
<< Read: Best Fitness Apps to NAIL Your Fitness Goals >>
Your Beginner Runner Mistakes to Avoid…
The Terrible Too's
Too much. Too soon. And, too Fast. That's right, there is TOO much of a good thing. It is common for our excitement, and desire to improve to put us in a position where we're doing too much, too soon. We think "more is better," but in this case it is not, especially if your body is not used to the new stresses you encounter with running.
How solve? Be conservative initially with the days/week you run, and the duration. If you are completely new to running, consider two-three days per week of running for approximately 20 minute duration. Then, add gradually; roughly 10% per week is sufficient. For example: if you run for 60 minutes this week (three 20 minute runs), then increase to approximately 66 minutes the following week.
The Wrong Shoes
Running is a fairly inexpensive sport. There are many free apps to track mileage, and you can get great deals on running clothes. But, one area not to skimp on are your running shoes. Keep in mind they don't have to be expensive to be the right shoes for you. And, running too long in the same pair can lead to injuries.
How solve? The most critical part is that your shoes are the right fit for you, based on how you run (neutral, over/under pronator). PLEASE visit a running specialty store to get fitted; the staff can evaluate your foot type and running style.
Keep track of the mileage on your shoes! Once you reach ~350 miles, it's time to say your sweet good-byes. I use the Nike Run Club app to track my shoe mileage. I also rotate my shoes for my runs, but it can keep track of multiple pairs' mileage. If possible, buy two pairs of shoes and rotate them.
Skipping the Warm-Up
We are all busy, and sometimes it's difficult to just get our run in, let alone an additional warm-up. We feel pressed for time, so we suit up, and off we go without giving our body some advance notice of the impending work. Some think "I'll start at an easy pace to warm up." BAD idea. Warming up makes your run easier, and you less likely to be injured. Does that sound like something of interest?
How solve? Dynamic stretches will do the trick, and take less than five minutes to do properly. FIVE minutes! You can probably carve out 0.34% of your day to have a better run, and keep injuries at bay.

More Mistakes to Avoid as a Beginner Runner
Choosing Poor Clothing Options.
Wearing cotton is not a good option while running. Cotton does not wick away sweat, and can cause excessive chafing while you overheat. 100% cotton socks also should be avoided as they, too, don't wick sweat – which can lead to chafing and blisters. Additionally, wearing one heavy layer in cold weather should be avoided.
How solve? Pick tech fabrics! Keep in mind that you can choose options from a multitude of sports (not just those made specifically for running) – which may ease the impact on your wallet. Tech fabrics are typically nylon, wool, bamboo, or polyester — or a combination. They wick sweat away, and keep you drier. This is critical for both hot and cold weather conditions.
While not a big cost investment, the right socks can make a huge difference. Socks specifically made for running help wick away sweat, support your foot and decrease friction (think blisters/chafing). My personal favorite is the Balega brand.
Lastly, when the weather is cold, wear layers versus one heavy layer. We naturally heat up as we run, and it's better to have a few layers to be able to adjust our temperature, and stay comfortable.
Poor Running Form/Stride Rate.
Running is just putting one leg in front of the other, over and over and over again. Right? Wrong. True, running is definitely not as technical as some sports (swimming, golf, tennis, etc.), but form does matter. Poor stride rate/form can lead to injuries, make you fatigue quicker, and even run slower. Who wants any of that?!
How solve? At minimum, focus on your stride – you want your legs to stay underneath you. Long strides with a heel strike far outside of your center of gravity is an injury creator (especially shin splints). Focus on running with your feet striking directly beneath your body each time. Many run watches will provide your stride rate via cadence data (cadence is the number of steps per minute; and a stride is composed of two steps). Shoot for 175-180 cadence/steps per minute (or ~90 strides!). Your pace really shouldn't affect your cadence; take smaller steps at a slower pace. Lastly, run as if you're on hot coals, keeping your feet quick and light.
Skipping Rest Days.
More is not always better; actually it often is worse. This pertains to running as well. Your body needs time to recover from the stress endured on the run, especially as a beginner runner. As said above, be conservative initially in the number of days/minutes you run. And, if you choose to cross-train (smart!), you still need to work in a rest day. Of course, if you are intent on getting burnt-out, or injured, then please proceed!
How to solve? In all seriousness, moderation is key. Rest is important for your recovery and performance. Take a rest day after a longer/harder run. Pull back on mileage (approximately 30%) every 3-4 weeks. Remember to increase mileage gradually as mentioned above. Read here about importance of rest days for (all) runners!
Last Two… Mistakes to Avoid!
Inadequate Hydration.
Generally speaking, we all don't drink enough water. Throw running into the mix, and we have an even bigger deficit, AKA dehydration. That leads to fatigue, headaches, muscle cramps for starters. In extreme cases (heat-related), dehydration leads to heat illness/stroke. Even a mild lack of intake has consequences: it will slow you down.
How solve? Pay attention to your thirst before, during and after a run. Try to drink ~16 ounces of water an hour prior to your run (cutting back on next hour minimizes bathroom breaks during the run). While running, drink according to thirst, but a rough rule of thumb is 4-6 ounces every 15 minutes. When your running duration time (and temperatures) increases, mix in some electrolytes as well (Gatorade, Nuun, Salt Sticks). Post run: continue to hydrate and remember that urine should not be dark! Shoot for a pale shade of lemonade.
Too Much Focus on Pace.
While most want to improve their pace/speed, this is not the primary focus of a beginner runner. Not by a long shot. The amount of time a runner can endure is directly related to the effort level. Running at an unsustainable pace can lead to frustration, fatiguing too quickly, and even injury.
How solve? The focus should be running at an exertion level you can maintain for the time goal you've set (ie: 15-20 minutes). When new to running, the focus is on creating a habit, and a base level of fitness to build upon for further improvement. Please, forget about how fast or far other people are running. Everyone was a beginner runner at some point. (PS: even established runners focus too much on pace, and that is a detriment to them, too!)