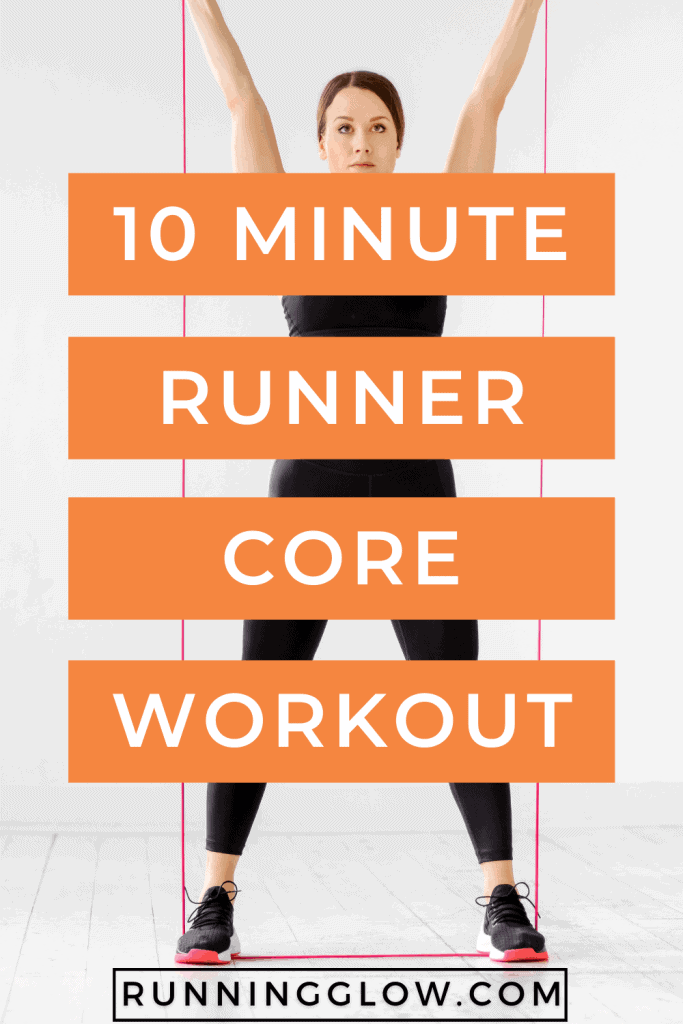 A runner core workout just can't be ignored. For numerous reasons — but, perhaps the chief reason is it makes runners less injury prone.  According to Mike Durner, certified strength/conditioning coach & exercise physiologist, "your core stabilizes every part of your body.  With a weak core, everything else in your body will fatigue much more quickly."
With fatigue, your body/run mechanics begin to break down.  Thus, you run less efficiently, potentially slower, and are certainly more prone to injury.
A runner core workout promotes better posture, gives you more endurance (for example, on those long runs), and again, helps you to avoid injuries.  
Remember that your core is not solely your abs!  It comprises the muscles of your torso, hips and glutes.  Focusing solely on the strength of your abdominal muscles won't provide sufficient stability.  Thus a runner core workout that works your abdominal, back, glute, and hip muscles are just the ticket.
With that, here's your ultimate body weight 10 minute runner core workout!  The goal is to do these nine moves at least twice per week. 
Good form with control, even if that's fewer reps (or time) is most important.  Always keep your abdominals engaged while trying to create length during the exercises.
Do each for one minute with a brief rest in-between each exercise.  As you gain strength/endurance, you can extend the duration of each exercise (or lessen rest time).  
10 Minute Runner Core Workout
Single Leg Bridge
Set yourself up in the bridge position (on back, hands by your sides, feet flat on floor), and extend your left leg out in front of you. 
(a) Lift your hips from the ground, and then lower them back to the ground. 
(b) Repeat movement for 30 seconds, and then repeat on the other side (with right leg extended).  
Be sure to keep your pelvis neutral while doing the exercise.
Goal: 30 seconds each side.
Related: How to Improve Your Running Form
Forearm Plank
Start facedown on mat, then prop yourself up with elbows under shoulders with forearms on the floor, hands flat.
(a) Lift hips off the mat, keeping your back straight and abs tight. 
(b) Engage glutes and legs to prevent hips from lifting or dipping so body forms a straight line from heels to head.  
Goal is to hold for 60 seconds.
Side Plank with Taps
Start in a side plank position, either on your forearm, or hand (hand position is more challenging).  
(a) Raise the top hand towards the ceiling with your top arm straight.  
(b) While stabilizing your body, bring your top arm down/around to tap the floor just below your armpit, or even slightly behind that. 
(c) Return to start position with top hand/arm toward the ceiling.  
Goal: 30 seconds each side.
Walking Plank
Start in forearm plank position with shoulders over elbows and core engaged. 
(a) Straighten your right arm and place your right hand on the ground below your right shoulder.  
(b) Do the same movement with your left arm.  You're now in a high plank position. 
(c) Do the reverse to return to the forearm plank position. Repeat, alternating the lead hand each time.  
Goal: 60 seconds
Bicycle Crunches
Lie on your back with your hands behind your head and elbows wide.  Raise your legs slightly off the floor. 
(a) Bring your right elbow towards your bent left knee while keeping your shoulders off the ground. 
(b) Alternate by then doing the opposite – left elbow to bent right knee. 
(c) Ensure your lower back is not arching, and firmly on the ground.  Focus on drawing your abs toward the floor. 
Goal: 60 seconds
Related: Strength Training for Runners; It's Different, Here's Why
10 Minute Runner Core Workout, continued…
Sprawl (burpee without a jump)
Start standing, hinge/bend at hips and place palms on the ground. 
(a) Jump legs back into a high plank position (feet hip width), pause.
(b) Then jump legs back in toward hands, return to starting position.  That's one rep. 
Goal: 60 seconds, rest during if needed.
Sprawl to Mountain Climber
Note description of above exercise (for sprawl).  
(a) Once in the high plank/sprawl position, bring your left knee into chest, then back to full plank position. 
(b) Repeat on the other side, bringing your right knee into chest, and back to full plank.
(c) Do this twice before jumping legs back towards hands.  Return to starting/standing position.  That's one rep.
Goal: 60 seconds, rest during if needed.
Bird Dog
Start on all fours, hands directly under your shoulders and knees directly under hips
(a) Lift and extend your opposite arm and leg while keeping your back and pelvis stable. Hold for a second at the top of each extension to activate your core.
(b) Alternate sides after each movement. 
(To make this  more difficult, after extending the arm/leg in the opposite direction, bring the knee/elbow together before returning to the starting position.) 
Goal: 60 seconds.
Supine Bridge Leg Lift – Runner Core Workout
Lie on your back with your weight on your hands and heels, lift your hips, and keep a straight line from your toes to your shoulders.  (Note my hips should be higher!)
(a) Next, while maintaining a solid core, and not breaking at the waist, lift your right leg several inches off the ground, hold for two-three seconds.
(b) Repeat with the opposite leg.
Goal is 60 seconds. 
Also note some of these might be difficult to do for a full minute initially; do what you can with good form.
This runner core workout is great addition to any runner's training plan, and will help you gain that critical core strength. Plus, no equipment necessary (other than a mat perhaps), so can be done anywhere! 
Combine this runner core workout with your other fitness routine – 10 minutes is not a lot of time, but can make a big difference if you're consistent!