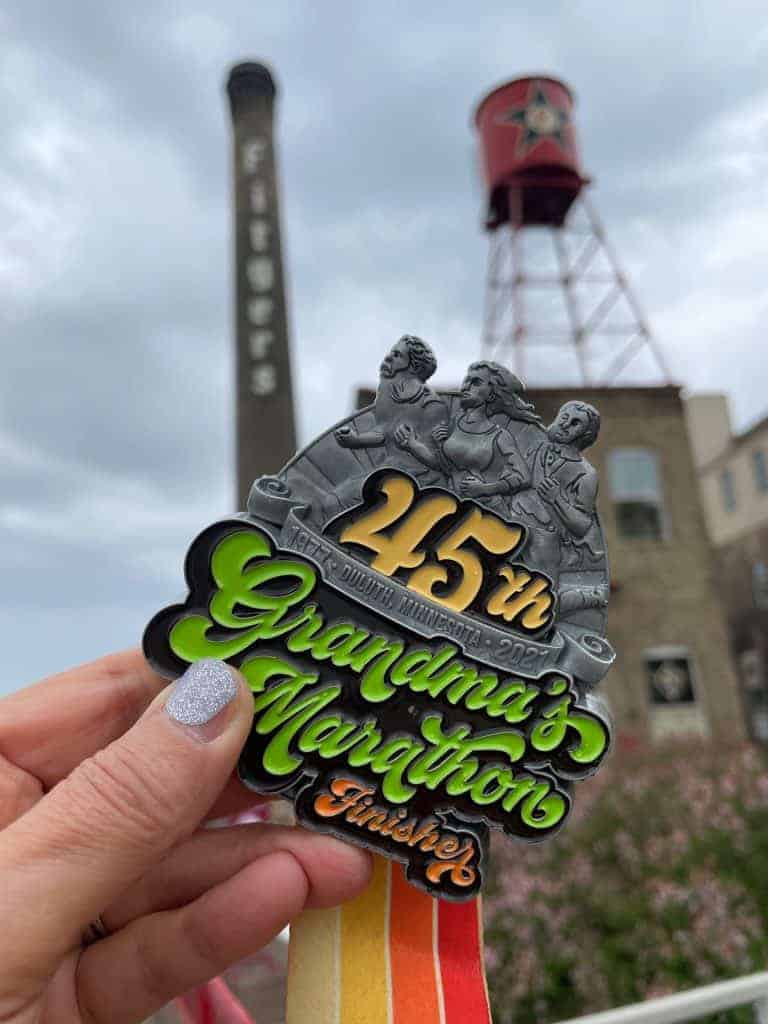 If you're debating whether to run Grandma's Marathon (or half marathon, or 5K!), I hope this race review convinces you to do it! I was beyond pleased with the 45th running of Grandma's Marathon on June 19th, 2021.  This was my 15th marathon, and is definitely high on my favorite's list. 
This race is often a "bucket list" marathon, and rightly so! Given its location, the race organization, the course, the beauty, the amazing city of Duluth, it is certainly one to run!  While Grandma's Marathon is a fairly large marathon (11th largest in the U.S.), it has a small town feel, but with first-class execution.
ACCOMMODATIONS for Grandma's Marathon
I have chosen to put this early in my Grandma's Marathon race review as accommodations sell out fast for this event! As said above, it's the 11th largest marathon in the U.S., but the size of Duluth (and its accommodations) are a mismatch.  Meaning, BOOK your hotel early!  
There are a number of hotels in downtown Duluth, and several right near the finish line (Canal Park area), which is very convenient. 
Personally, I HIGHLY recommend Fitger's Inn.  Fitger's Inn is a historic lakefront hotel located less than a mile from the finish line (easily accessible by the beautiful Lakewalk). I walked back from the marathon finish, a good way to work out the soreness. It's on the National Register of Historic Places, has 62 rooms/suites, and some rooms allow pets.  Fitger's Inn has several restaurants, an amazing coffee place, an ice cream shoppe, a salon/spa, a microbrewery, and some wonderful stores.  Those staying race weekend also receive a guest welcome packet that includes savings on some of its shops and restaurants.  
Additionally, those who stay at Fitger's Inn are given an opportunity to book for the following year (before check-out) — for those who like to repeat races (like me!).  
If you choose to stay somewhere else, look here for other options! But do so EARLY, possibly even before you register for the race (just be sure to read the cancellation policy).  Another option is to stay in Two Harbors to be close to the marathon start.
Be prepared for your race travel!: 
Avoid These 10 Mistakes with Race Travel
Grandma's Marathon Race Review: THE EXPO
The expo for 2021 was smaller than usual due to modifications made for COVID-19. That said, it was more than sufficient! It had all the typical offerings of a race expo, and some fun photo opportunities as well. Over 36 vendors were present at the expo, and its location is at "DECC" (Duluth Entertainment Convention Center) – as is the spaghetti dinner, and most transportation to the start line.
I recommend going on the first day (Thursday) if possible, OR early Friday as some official Grandma's Marathon merchandise sells out fairly quickly.  Additionally, it gets difficult to park on Friday afternoon during peak pick-up time.
We took advantage of Michelina's pre-race spaghetti dinner on Friday night.  Enjoyed it! It is $14 for adults, $7 for children (free kids 4 and under). It's an "all you can eat" format. It's located at the DECC, and this year was open from 11 a.m.- 9 p.m.  We met some really nice folks from Massachusetts – always fun to meet runners from other parts of the country.  
Related topic to Grandma's Race Recap
Packing Tips for Your Next Destination Race
Grandma's Marathon Race Day TRANSPORTATION
YOU CAN'T DRIVE TO THE START.  You must take either a bus, or ride the North Shore Scenic Railroad.  The race weekend guide states taking official start line transportation is the ONLY way to guarantee arriving on time to the start line (and that's important!).
Note, the North Shore Scenic Railroad is only an option for marathoners!  Half-marathon runners must ride the bus, as it starts BEFORE the marathon.  There was plenty of space on the train this year,
and there are bathrooms on the train also – a BONUS.
Depending on your bus departure location, half-marathoners depart between 4:45-5:30 for a 6 a.m. start.  Marathoners (first 1,000) can board the railroad between 5:30-6:10 a.m.  Those taking the bus must board starting at 6:30 a.m.
START LINE: Grandma's Marathon Race Recap

The starting line for the marathon is located at Two Harbors, MN. There were plenty of porta potties!  The bus/train drop  off is approximately 1/3rd mile from the start line.  There are no corrals, and there is a fly-over a few minutes before the race start.
This year, there were no pace groups, nor a bag check, but they are normally part of the non-COVID race experience.  I expect both will be back in future years.
Grandma's Marathon RACE COURSE
No race review is complete if the course itself is not covered!  Grandma's Marathon (and half-marathon) is a point to point course that starts at Two Harbors and essentially goes along the waterfront on scenic highway 61 for the vast majority of the race (until approximately miles 22 and beyond, when closer into downtown Duluth).  The course is well marked with huge helium balloons at every mile marker (marathon: yellow, half-marathon: teal).  
This is a mostly rural course with lovely views at many points of Lake Superior, the world's largest freshwater lake.  I myself took a few pictures while running!  We had no fog on race day, so we could easily see the lake.  I understand that some years don't have as clear of a view if the fog rolls in.

Grandma's Marathon starts at 740 feet elevation and ends at 610 feet.  There are no big hills along the route, but plenty of gradual, rolling hill sections.  Lemon Drop Hill at mile 22 is as hilly as the course gets, and it is quite manageable.  Grandma's is often advertised as a fast, rolling flat course.  I don't see it as flat, but did appreciate the rolling hills as it more evenly fatigues leg muscles!  
Crowd support is sporadic, but certainly sufficient in my opinion!  More spectators are present as the miles climb, and as you get closer to Duluth.  A number of spectators dress in costume, play music, and offer sweets and hydration (beer included!) along the route.
Related topic to Grandma's Race Recap:
How to Sleep Better the Night Before a Race
Great Grandma's Two Course Challenge
I didn't partake in the challenge this year, but runners (limited to 750) can run the 5K and marathon, or half-marathon.  The 5K is Friday evening at 6 p.m. at Bayfront Festival Park (near DECC).  Those runners that complete the challenge get two medals, two finisher shirts, and the Great Grandma's Challenge Jacket.
AID Stations and MEDICAL Support
Fifteen water/aid stations are on the marathon course, and all of them have toilets and first aid.  Each station has water and Powerade; and many also provide ice – which is nice!  Gels are at mile 17, and fresh fruit near mile markers 19 and 23.5.  Note that the stations are heavier on the back-end, and the first aid/water station isn't until mile three on the course.
There were quite a few unofficial aid stations giving out an assortment of goodies: lemonade, fruit, bacon, beer, candy, etc!
Medical support and "dropout" zones are also on course.  There are five of them, and the first is at 13.4 miles, and the last at 23.7 miles.  Hopefully, nobody reading this will have to drop out!
FINISH AREA: Grandma's Marathon
Shortly after you cross the finish line, you'll receive your (very heavy, awesome) medal, water, heat sheets, the typical post-race fare, and a bag to carry it.  The finish line area also has a PR bell, Grandma's Marathon merchandise area, a family meet-up, med tent, changing area, porta potties, and a post-race celebration area.
A free (alcoholic) drink ticket was also provided for the festival at Bayfront park.  Those runners needing a return bus will also find them here (for those that did not depart from DECC before the race).
Grandma's Marathon Race Review, Continued
WEATHER in Duluth, MN – Unpredictable!
If you read over previous Grandma's Marathon race reviews, you'll see that the weather can be perfect (high 40's-low 50's) to as high as 90 degrees on race day.  Not only that, the weather can vary greatly during the marathon itself.
This year, it was in the low 60's at marathon race start with no cloud cover, no breeze, and little shade.  The first six miles were very warm, and I noticed most runners around me were also sweating profusely.  Fortunately, clouds rolled in, and the cloud cover, slight breeze made the balance of the race much more pleasant.
Bottomline, be prepared for anything, and bring some throw aways if it's predicted to be cool at race start.
Travel LOGISTICS to/from Duluth MN
There is an airport in Duluth, but I flew into Minneapolis and drove approximately 2.5 hours to Duluth.  At the time of my booking, the flights to Duluth were more expensive (although rental cars aren't cheap, either!).  The drive from Minneapolis to Duluth is lovely, and fairly stress free.
There is an option to take a shuttle from Minneapolis (MSP) to Duluth as well, if you don't want to rent a car.  
SHOPPING for Pre or Post Race Fuel!
In Duluth, there is a Whole Foods and a Super One Foods grocery store not far from the downtown area.  I shopped at Super One Foods, and found everything I needed.  
A notable mention for a great breakfast or brunch in Duluth is At Sara's Table Chester Creek Cafe.  I'm sure their food for lunch and dinner is equally good, but my experience was solely brunch on Sunday post marathon.  Highly recommend it!
BEYOND Grandma's Marathon (Seeing the Sites)!
Beyond providing a race recap of Grandma's Marathon, let's discuss what you can do when not running.  The area surrounding Duluth is beautiful, and you can easily make an extended weekend trip that won't disappoint.  I took a drive on scenic highway 61 the day prior to the marathon and stopped along the way to take pictures of wildflowers along the lake.  There are a number of waterfalls in the area, as well as the beautiful Duluth Rose Garden park near downtown.
Related topic to Grandma's Race Recap:
How to Stay Healthy and Nail Your Marathon Recovery
Want to venture out and see a lighthouse, or hawks at the Hawks Ridge Observatory?  You can do that, too!  Lastly, the Duluth Lakewalk is a great way to see the city, and get in a shakeout run the day prior to your race.  It goes along Lake Superior, and extends for 7.5 miles from Canal Park Museum to Brighton Beach.  With the sun coming up at 5:15 a.m. race weekend, it's a lovely way to get some sunrise shots along the water.
I am sorry I missed the Glensheen Mansion, a 39 room estate that provides tours daily.  The tour/location gets great reviews; will go if I return to Duluth!
I hope you found this Grandma's Marathon race recap helpful.  If you have any questions, please feel free to email or respond on this post!