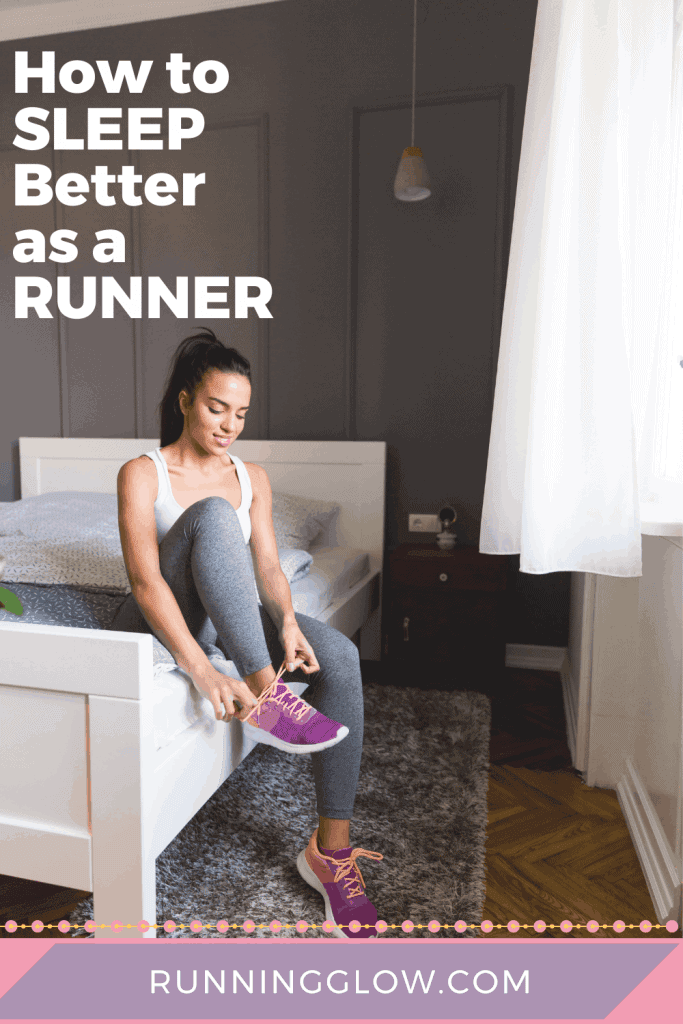 As a runner, a good night's sleep, and rest days are critical to feeling and running your best.  Yet, runners often tend to be the type of person that prefers sticking to a regular workout routine and timing their miles/progress.  In other words, that type "A" personality who may have more racing thoughts (no pun intended) when you're headed to your pillow.  With that, here's some tips to sleep better as a runner.
Personally, I am definitely that type "A" personality that struggles with stewing over a myriad of things when I'm attempting to sleep.  I've done some research with the hopes to not only help me, but how you can sleep better as a runner.
The tips to get you on the road to a more restful night's sleep are broken into two parts: the sleep disruptors (7 of them), and sleep prompters (10 of those).  Knowing what to avoid, and what can prompt a better night's sleep is a nice little recipe for how a runner can sleep better!
How to Sleep Better as a Runner – The DISRUPTORS:
Blue light – emits from all electronic devices and impacts the effective release of melatonin (sleep hormone).  Minimize screen exposure at least an hour before bed time, and/or use blue light blocking glasses.  
Caffeine – Web MD suggests cutting out caffeine 4-6 hours prior to bedtime.  Caffeine is present in things other than coffee: soda, chocolate, iced tea, and obviously, energy drinks. If you're more sensitive to caffeine, eliminating 6+ hours before bed is a good call. 
Liquids – cut down on water/liquid consumption about three hours before bed.  Trips to the bathroom in the middle of night are also sleep disruptive.
Alcohol – while alcohol can help induce falling asleep more quickly, it decreases overall sleep quality (shorter sleep duration/more sleep disruption).  Meaning, you wake less rested.
Hunger/indigestion – It's a fine line, but attempting to sleep on an empty stomach is difficult.  Conversely, a heavy meal before bed can cause indigestion, acid reflux, and other issues that impair sleep.  
Digestion disruptors: these foods take longer to digest, can upset your stomach, and make getting to sleep more difficult: fried, spicy, sugary and greasy foods.
Stress/racing thoughts: it's hard to fall asleep when your mind is silently stewing, or your to-do list for the next day is racing through your head.  
Related Topic: How to Sleep Better the Night Before a Marathon
How to Sleep Better as a Runner – The Prompters
Have a bedtime routine 
Just like parents often have a bedtime routine for their children, the same process can help adults to a restful night's sleep as well.  
A bedtime routine also helps to reduce late-night stress/anxiety, or worrisome thoughts that keep you awake.  Anxiety, or anxious thoughts get your sympathetic nervous system in high gear (think "fight" in the fight/flight response of humans – not conducive to sleep!).  The routine helps to focus your mind on the tasks, and encourages you to relax instead.
A bedtime routine is activities you perform in the same order each night, roughly 30-60 minutes before bed.  Of course, the routine can vary, but effective routines often include things like a warm bath, reading, journaling, yoga, breathing exercises, or meditation.
Think of your bedroom as a CAVE  
The most conducive setting for sleep is like a cave, yes a cave.  That means dark, quiet, and cool.  According to the Sleep Foundation, the optimal temperature for sleep is 65˚ F (18.3˚ C).  An overhead fan works wonders, too, to keep temperature down, and provides some white noise.
Consistency
Attempt to be consistent with your bedtime/wake-up times, and stick to them every day. Following a consistent sleep schedule helps train your brain to naturally feel tired when it's bedtime.  (Start your bedtime routine 30-60 minutes before bedtime!)
Warm bath or shower
A warm bath (or shower) about an hour before you go to sleep has been proven to help induce sleep more quickly, and help you fall asleep faster.  
Research has shown that we naturally have a nighttime drop in body temperature (temperature circadian rhythm), and a warm bath can trigger a similar reaction. Your body heats up from the water, but quickly cools as the water evaporates.  The result?  A sensation that makes you feel relaxed, and tired.  No more than 10 minutes is needed to get these benefits.
Write it down
Racing thoughts/worries are not known to induce the zzz's.  Journal, or simply write down a to-do list before bed.  Or, talking to a friend, spouse, or family member about something stress inducing may be helpful, too. 
One study found that taking 5 minutes before bed to jot down a quick to-do list of tasks that needed to be done in the following days significantly sped up sleep onset.
Light snack/bedtime tea
Neither hunger, nor a heavy meal are the ticket to dreamland.
The sweet spot as far as your stomach goes before bed is having a light, healthy snack.  Try foods that contain tryptophan (encourages release of serotonin): turkey, eggs, chicken, fish nuts.  Consider combining it with something made with whole grains: bread, crackers, cereal.  
Other options: fruit/yogurt; cherries, grapes, strawberries,  nuts and oats have high melatonin content.)
Instead of coffee, tea (caffeinated) in the evening, try a non-caffeinated herbal teas with chamomile or lavender.  They help calm the mind and induce sleep.
Listen to Music, or other types of "noise"
If there's a type of music that relaxes you, then choose that.  Another option is ambient sounds, white noise, or pink noise.  Pink noise (rain, waves) has been proven to improve sleep quality while white noise may help you fall asleep faster by masking other sounds.
You can tap into Spotify to find different types of white nose, or other smart home devices as well.
Meditate, Yoga, or Both
A daily yoga routine has been shown to improve sleep quality.  Not to mention that yoga is one of the BEST cross-training options for runners! It's also a great way to focus your attention to your breath/movement – a relaxing practice in itself.
Like yoga, a regular meditation practice (mindfulness meditation) teaches people to allow their thoughts and manage emotions.  That ultimately helps enable sleep onset, versus stressing about falling asleep.
Lower the lights
Avoiding bright light can help you more easily transition to bedtime, and boost your body's melatonin production.  Remember to also avoid screens that emit blue light (or wear blight light glasses).
Screen Alternatives
Instead of staring at a screen (TV, computer, your IG feed), consider adding one of these activities to your nighttime routine.  Focusing on a singular task (like below) can put your mind into a meditation-like state, creating a sense of peace/tranquility.
assembling jigsaw puzzles

building models

reading (but stick to paper books or an e-reader that gives off minimal light)

drawing or coloring

doing word or number puzzle
As a runner, how do you sleep better? 
Any tips, please share in the comments!